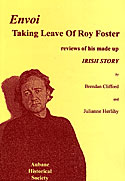 Name: Envoi: Taking Leave Of Roy Foster
Subtitle:
Author: Clifford, Brendan & Herlihy, Julianne
Editor:
Publisher: Aubane Historical Society
Published: 2006
ISBN: 1 903497 28 0
Contents: Roy Foster is an Oxford-based overlord of Irish academia. He is not the first revisionist, nor the most thorough, but the most flamboyant. He is the figurehead of a modern tendency which has been busily 'deconstructing' Irish history. The aim is to undermine pride in the achievement of national independence, to denigrate those who devoted themselves to that end and, indeed, to depopulate the historical landscape of Ireland. Correspondingly, the crimes of the conquest are relativised.

But in this book it is Foster's Irish Story which is itself 'deconstructed' by the Aubane Historical Society. His erudite references—to such matters as A.M. Sullivan's Story Of Ireland, Lady Ferguson, Gellner's Ruritania, Catholic Emancipation, Christian Brothers' education, national amnesia, De Certeau, etc.—are subjected to scrutiny by Brendan Clifford. They are found to be inapt, unhistorical—and even infantile.

Foster's sub-title to The Irish Story is Telling Tales And Making It Up In Ireland, meaning that received Irish history is unreliable. Unfortunately the Oxford History Professor undermines his own thesis by retailing a piece of hearsay about the Aubane Historical Society in his book, passing this gossip off as history!

In Part Two of the book, Selling The Product, Julianne Herlihy looks at how the media plays its part in the revisionist project by promoting Foster's work with publicity of every kind. In place of critical appreciation there has been adulation. Clearly the object is to attempt to create a readership for his work approaching that for the reminiscences of Gerry Adams, Frank McCourt, and Alice Taylor—all targets of Foster's vituperation.

David Alvey deals with Foster's influence on the Schools History Syllabus.

Brian Murphy osb shows how Foster has carried forward research errors by his three main academic sources in regard to interpretations of the national movement.

There is plenty of food for thought in this stimulating and thought-provoking book.
Extracts: Read the contents here.

Read the preface by Julianne Herlihy here
Errata: p9, last line of 2nd paragraph: title should read, No Man's Man

p36, quotation, para 2: line 6, 'guilty' should read 'gently'; line 7, 'mere' should read 'more'; line 8, 'then' should read 'than'

p40, para 3: 'in Millstreet' should read 'in Kanturk and Millstreet

p83, quotation, last line of para 1: 'strongly' should read 'strangely'
Price: £11.00; €15.00
Buy: Buy this book here